Bacteriophages and Microbiome in Dermatology: Potential Therapeutic Strategy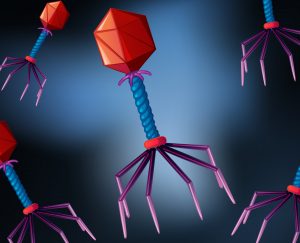 News release, Skin Challenges Task Force – July 24
Bacteriophages, also known as phages, are viruses that selectively target and infect bacteria. In addition to bacterial dysbiosis, dermatologic conditions such as acne, psoriasis, and atopic dermatitis are characterized by a relative reduction in the abundance of phages and the overgrowth of the corresponding bacteria. Phages often exhibit high specificity for their targeted bacteria, making phage-replacement therapy a promising therapeutic strategy for the control of pathogenic bacteria in dermatologic disease. Novel therapeutic strategies regulating pathogenic bacteria are especially necessary in light of growing antibiotic resistance.
A recent review aimed to gather the medical literature assessing phage dysbiosis and therapeutic trials in dermatology.
Ultimately, studies have depicted promising results for the treatment of acne, psoriasis, and atopic dermatitis but are limited by low sample sizes and the omission of control groups in some trials. Additional work is necessary to validate the efficacy depicted in proof-of-concept trials and to further determine optimal treatment vehicles, administration mechanisms, and dosing schedules. This review provides the necessary framework for the assessment of phage efficacy in future trials.

The influence of phage deficiency in acne, atopic dermatitis, and psoriasis.
Overall, bacteriophage dysbiosis has been observed on the lesional skin of psoriasis and acne patients. Experimental confirmation of the suppressing capacity of phages on their corresponding bacteria suggests that phage dysbiosis may contribute to the microbial dysbiosis characteristics of each dermatologic condition. In addition, phage deficiency with associated bacterial abundance suggests that phage replacement, either topically or orally via phage "cocktails," may be an effective therapeutic strategy to mitigate the phenotypic signs and symptoms of disease. Few studies assessing phage-based therapies have been promising for the treatment of psoriasis, acne, and atopic dermatitis, both in murine models and human subjects. However, the current evidence is limited by low sample sizes and the omission of controls in some cases. Future research is necessary to assess the efficacy of phage replacement in large scale studies in addition to determining the optimal treatment vehicles, administration mechanisms, and dosing for particular purposes.
---
Dr. Sivamani, University of California, Davis, USA, will further elaborate this topic during Skin Ageing & Challenges 2023. More about Dr. Sivamani's talk. You can submit your abstracts related to this topic here.
---
Skin Ageing & Challenges 2023
November 9-10, 2023 – Lisbon, Portugal
LinkedIn | Facebook
Did you like the news ? Please share it with your circle.