Porto Skin Ageing & Challenges 2019 will be held in February 25-27, 2019

Dear Colleagues,
On behalf of the members of the scientific committee, we are pleased to welcome you for the 10th International Conference on Skin Ageing and Challenges which is held in February 25-27, 2019 in Porto, Portugal. Skin Challenges 2019 is held under the patronage of the International Microbiota Society (IMS) and the International Society of Antioxidants in Nutrition and Health (ISANH).
Ageing is an international issue that has social, economic and individual impacts. Preventing it and decreasing its side effects (all related pathologies) are major challenges for humanity. Thus the understanding of ageing and in particular skin ageing mechanisms will allow us to live longer, better and healthier.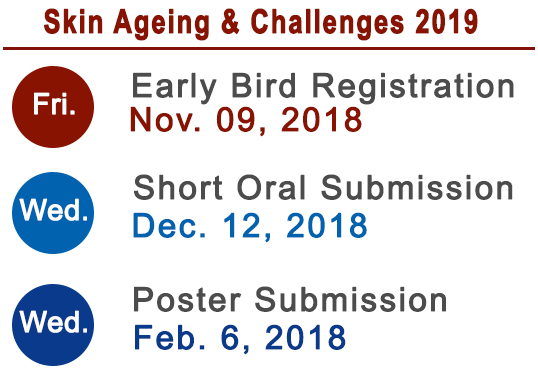 Porto Skin Ageing & Challenges 2018 concluded with a huge success
The 9th International Conference of Skin Ageing & Challenges was organized in Porto, Portugal in February 26-27, 2018.
During two days, more than 60 oral & poster communications were highlighted different axes and topics related to the recent mechanisms, cellular and molecular effects and metabolism, but also the impact of external factors and the new generation of natural ingredients.
The 8th edition was an excellent platform which gathered more than 180 participants from 36 countries, to share data, ideas, critical comments and opinions alike.
The abstracts book is available
The Abstracts book of Porto Skin Ageing & Challenges 2018 is available. It is including all abstracts which will were presented with oral and poster communications during the congress.
If you didn't attend the conference, you can order the abstracts book by clicking here.