The 9th International Conference of Skin Ageing & Challenges was organized in Porto, Portugal in February 26-27, 2018.
During two days, more than 60 oral & poster communications were highlighted different axes and topics related to the recent mechanisms, cellular and molecular effects and metabolism, but also the impact of external factors and the new generation of natural ingredients.
The 8th edition was an excellent platform which gathered more than 180 participants from 36 countries, to share data, ideas, critical comments and opinions alike.
The scientific committee commented: "we tried to put over the table new players and strategic actors that we strongly think that they will play an important role to design the future of not only skin, but all our health.
Three new players were highlighted:
New player 1: Skin Microbiota
New player 2: Skin Olfactory Receptors
New player 3: Skin, Smell & New Technologies
For more information, please click here.
After all the high-quality presentations given by internationally renowned skin investigators as well as by young scientists and at the end of the congress, the scientific committee discerned several awards to distinguished speakers:
Scientific Achievement Award:
Prof. Jean Krutmann from Leibniz Research Institute for Environmental Medicine at Düsseldorf, Germany, Sweden was awarded for all his scientific achievements.
Prof. Krutmann gave a strategic presentation about "What's new in extrinsic skin aging research? State of the art."
For more information, please click here.
Scientific Contribution Award:
Dr Katharina Bitschar from the University of Tübingen, Germany presented the recent advances and perspectives on skin microbiota & epithelial. The scientific contribution award was awarded by the scientific committee.
For more information about this award, please click here.
Poster Presentation Award:
The third award was discerned to Nethanel Fridman from the School of Pharmacy, Institute for Drug Research, Faculty of Medicine, The Hebrew University, Jerusalem, Israel for his poster presentation on the biodegradeble nanoparticles as topical drug delivery into hair follicels.
Industrial Innovation Award:
The French company Greentech was awarded for its industrial innovation. Greentech actively presented their innovations strategies to prevent skin alteration.
For more information about this award, please click here.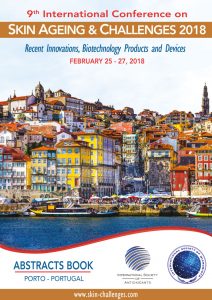 The Abstracts book of Porto Skin Ageing & Challenges 2018 is including all abstracts which were presented with oral and poster communication during the congress.
If you didn't attend the conference, you can order the abstracts book by clicking here.
To access the final agenda of Porto Skin Challenges 2018, please click here.
To access the pictures of Porto Skin Challenges 2018, please click here.
The scientific committee took on consideration the conclusion of this congress to underline and target the new strategies for the next edition which will be held in Portugal in February 2019. All the practical information will be added soon on the website.
Avelino Voral
On behalf of the Scientific Committee