Beiersdorf and Insilico employ AI technology in computer-simulated skin research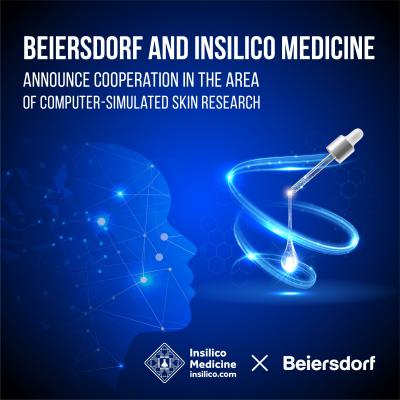 Hamburg, January 8, 2020 – Beiersdorf and Insilico Medicine, an artificial intelligence company developing end to end drug discovery pipelines, announced today that they are entering a collaboration to jointly discover novel, safe bioactive ingredients for a specific skin indication at an unparalleled pace, that will serve as the basis for developing appropriate skincare products.
"As part of our Open Innovation culture, we are always looking for new technologies and partners with strengths that complement ours. We are delighted to now be working with Insilico Medicine as a veritable expert when it comes to artificial intelligence. We are able to evaluate new active ingredients significantly more quickly and more efficiently by simulating biological effects in silico. This enables us to cater even better to the consumers' as yet unmet skincare needs," explains Dr. May Shana'a, Senior Corporate Vice President, Research and Development, at Beiersdorf.
Alex Zhavoronkov, CEO of Insilico Medicine, is likewise excited about the joint effort: "We firmly believe there is a great potential in this collaboration. We worked with many consumer companies in the past and in my opinion, Beiersdorf became an undisputed leader in the area of skin research as well as in digital technologies in recent decades. We are delighted that they have recognized the potential of artificial intelligence early on and hope to demonstrate the power of AI going forward in our collaboration."
News source: https://eurekalert.org
Please follow and like us: